Protected Areas Without Protection
Uncontrolled commercial exploitation, private interests and the lack of government preservation efforts have endangered natural heritage sites in Bosnia and Herzegovina.
By the Center for Investigative Reporting
Located inside Ljubačevo rock quarry and hidden behind excavators, trucks and dampers whose tires have left intertwined tracks on the dusty ground, is an identically named cave.
An onlooker would have a hard time guessing that this is a protected area because the quarrying has seriously damaged this natural gem. Rare cave formations that nature has patiently created over centuries, man has destroyed through quarrying.
Even though it is officially under their protection, the Banja Luka city officials have no idea in what state Ljubačevo Cave is.
An International Convention and decisions issued by various layers of government in BiH (entity, cantonal and municipal) led to the designation of 41 protected areas nationwide. Yet, most of these are only formally protected, while due to the lack of commitment from authorities, the lack of trained personnel and financial resources, these areas have been left to fall apart.
Concessions in Protected Areas
Ljubačevo Cave is the first protected area and one of 13 caves in Bosnia and Herzegovina (BiH). It was discovered after explosive blasted an entrance to it in a quarry. In 2008, after it had been explored and documented, the cave was declared a natural monument. But this hasn't helped it much.
Republika Srpska (RS) Inspectorate officials say that the quarry's management followed the procedures imposed on them between 2012 and 2015. They marked the area as protected, moved all material left from the explosion, and conducted works outside of the protected area, at 200 meters distance from the cave.
This June, reporters from the Center for Investigative Reporting (CIN) in Sarajevo visited Ljubačevo Cave and found none of this to be true. There was no sign delimiting the protected area, while trucks dumped soil, stones and branches near the entrance to the cave. The only access path leads through the quarry, and renders it possible to visit only with Kozaraputevi's approval, as the company holds a concession permit over the land.
A road for trucks is located just above the cave's entrance, although the Kozaraputevi Company says that they are not using it and that they no longer mine near the cave, and thus it's not being damaged by them.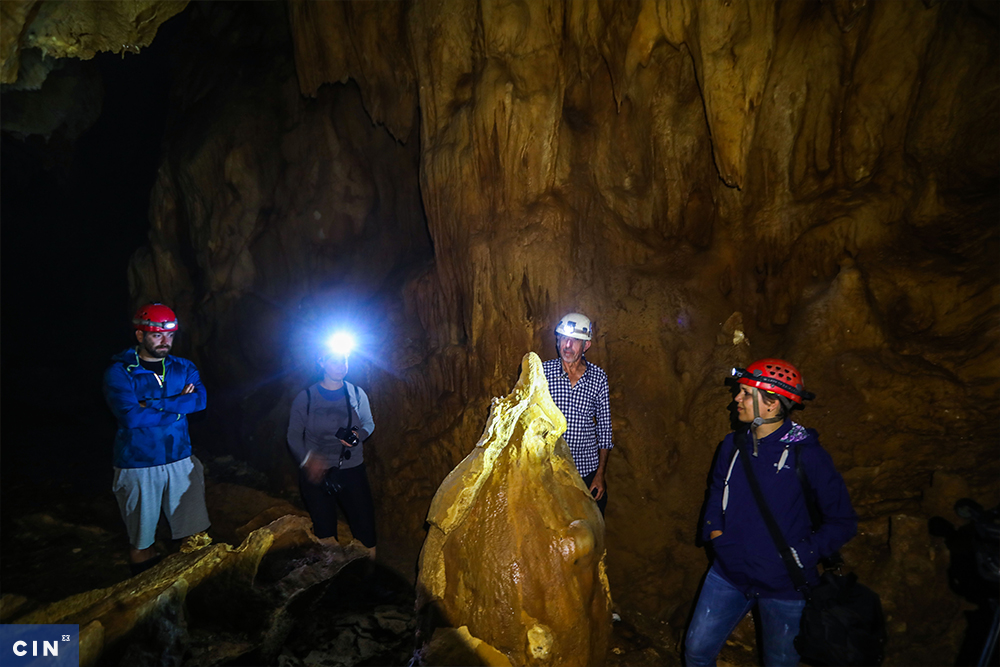 Ljubačevo Cave is also important because of helectites – a rare cave deposit that has a branching, curved, or spiralled shape. (Photo: CIN)
However, in the cave one can feel the vibrations of excavation machines from the quarry. At the entrance, along with a beer crate, there are the remains of a large stalagmite that fell from the ceiling. Along the whole front part of the cave there are rare, broken cave formations. Ivan Napotnik, from the Speleological Club "Ponir", said that the best-preserved part of the cave is farthest away from the quarry, while the remainder is damaged.
"Probably because of mining, or detonations and vibrations through the rocks, those rare cave formations have many cracks in them", said Napotnik. "The stalactites fell off the ceiling and stalagmites have peeled off, they were destroyed".
Napotnik explained that it takes 100 years for stalactites and stalagmites to grow just one centimeter. In his estimate, one of those broken was around one meter tall.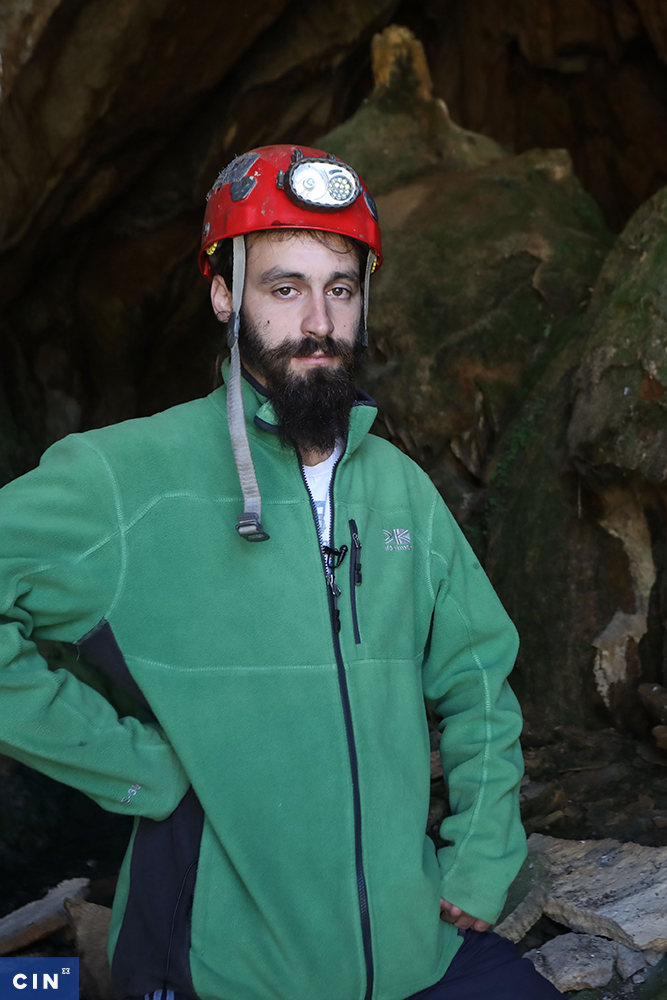 Speleologist Ivan Napotnik said that the cave is a habitat for 12 bat species and that it is of interest for geological and biological research. (Photo: CIN)
Over the past five years, the inspection officials did not check whether Kozaraputevi Company honored conservation measures in the area and they said that the situation on the ground changed rapidly. In this case, the authorities should call the inspectorate for a new inspection, but the Banja Luka authorities don't have a clue as to the state of this protected area they are in charge of managing and protecting.
Petar Bilčar, Head of Department for Utility Affairs of the City of Banja Luka, said that the cave represents a great potential, but that "serious business" can only start when the quarry concession is set to expire in 2046.
According to the Republika Srpska Law on Nature Protection, legal entities operating in protected areas while not complying with protective measures may face fines between 4,000 KM and 20,000 KM. The Inspectorate has not been issuing sanctions, just recommendations.
Other concessionaires are also damaging protected areas. The culprits for huge amounts of mud and frequent flooding in Hutovo Blato Nature Park are hydropower stations in Čapljina and Dubrovnik. The latter is mainly located in Croatia. They are funneling water away from the Trebišnjica river. For this reason, this unique wetland with 160 bird species and other animals and plants is drying out, covered in mud and overgrown with reeds. Endemic species in Hutovo Blato are endangered.
A nonprofit environmental organization, WWF Adria, estimates that Hutovo Blato is going to disappear over the next 30 years if nothing is done. In 2015, after the organization's campaign, the FBiH Ministry of Environment and Tourism added the obligation to restore Hutovo Blato in a document which accompanies the ecological license issued to a Mostar-based power supplier HZHB as the owner of the hydropower station in Čapljina.
"According to the plan, the power supplier HZHB should have invested 500,000 KM a year over the next five years for the revitalization of Hutovo Blato Nature Park", said Zoran Mateljak of WWF Adria. However, the utility company has contested this obligation in court.
"They are seeking for procedural errors in order to avoid any obligations with respect to the protection and revitalization of Hutovo Blato, much less to do something on their own," said Mateljak.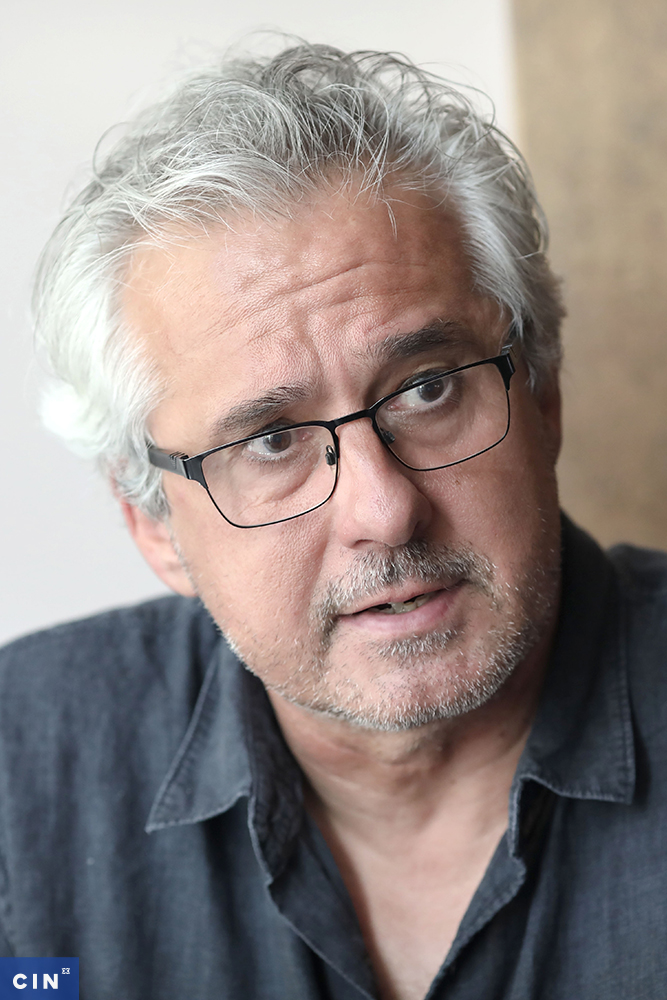 Zoran Mateljak of the WWF Adria said that it is ironic that Mostar-based power supplier HZHB, which has been destroying Hutovo Blato reserve for years, maintains that the new hydropower station Vrilo, which is being constructed near the Livno Field, will not have detrimental effects on the environment. (Photo: CIN)
The power supplier's managers have not replied if they had in the past, or will they in the future, allocate money for restoration of Hutovo Blato. "Not one mark has been paid so far", said the Manager of Hutovo Blato Nature Park, Nikola Zovko.
Zovko said that he had nothing against hydropower stations operating, but they should have set aside some money to offset damage to the areas they harm. In his estimate, 4.8 million KM was needed to restore the habitat, water and water sources, the fish and the bird populations. Zovko said that Hutovo Blato had lost 50 percent of its water capacity over the past 40 years because of the hydropower stations.
"There's a threat that we will lose even more now with new construction in the Upper Horizons", said Zovko. It is a project conducted by the RS power supplier which already started building the first out of three planned new hydropower stations on the Trebišnjica river.
Other protected areas might also end up having problems with hydropower stations. Four small hydro power stations are planned to be built within the National Park "Sutjeska". The project has been put on hold until a new plan is adopted that would regulate the use of this protected area. Another planned project is HZHB's massive hydro power station "Vrilo", that could have an impact on the Livno Field that is a Ramsar Convention protected wetland.
Also, "Bentbaša" protected landscape in Sarajevo might be damaged with hydropower stations. In the Miljacka canyon at the gates of Sarajevo, a small hydropower station is being built, while downstream another one is planned as well.
Lack of Commitment or Lack of Money
Protected areas are managed by municipalities, public enterprises and bodies, non-governmental institutions and various legal entities. They are obliged to monitor endangered plant and animal species and to protect the area from negative human caused influence. Still, this is done haphazardly.
CIN reporters found that half of the protected areas in BiH do not have a management plan and nearly the same number of them have failed to conduct monitoring compliance so there is no list denoting protected species in the areas.
However, most of the managers say that there is neither enough money to meet all the requirements, nor enough trained personnel.
Officials from Blidinje Nature Park have devised a management plan in which they enumerated what they wished for: more employees and declaring the area as a national park so that they could independently protect the area from illegal construction, poaching and other detrimental influences.
"And wishes are not coming true", says the reserve's manager Zdravko Kutle. "So, no one else has written them down or won't or doesn't have a desire to implement them".
Instead of being financed by the Federation of BiH, Blidinje protected area receives money only from Herzegovina-Neretva Canton, and the amount of 3,700 KM a month covers the salaries for its only employees – the manager and a bookkeeper.  Their only recourse is to provide suggestions to the authorities in charge. Their only recourse is to provide suggestions to the authorities in charge.
"To warn them that something is going on in here," said Kutle. "Whether that something will be shut down, protected and if the inspection will act — we have no say over that".
The lack of funds also prevents the managers of Gromiželj wetland near Bijeljina to properly care about this habitat of rare and endangered species – the European mudminnow fish. Even though it's been formally under protection for more than two years, no agency has set aside any money for its preservation. Gromiželj is a badly neglected area with a low level of groundwater, mud problems and invasive plant species.
"It's a shame that everything has overgrown", said Žarko Vikić, president of the Gromiželj Association for the Protection of Flora and Fauna which manages the area. He explained that the Association doesn't have capabilities to keep the area protected around the clock from hunters and fishermen, as well as garbage dumping. Vikić said that he discussed the issue with municipal and entity officials, who are passing the buck on financing.
"When I approach them and tell them, we need a guard, we need an ecologist and a biologist, they have a problem with it", said Vikić. Even though the action plan for the protection and revitalization of the wetland calls for a mere 20,000 KM, no one is financing even this amount.
Only four national parks in BiH are regularly financed from the entity budgets: every year Sutjeska receives 1,140,000 KM; Kozara 760,000 KM, Una 500,000 KM, and Drina 200,000 KM.
Protection or Commercial Exploitation of Natural Resources
Both Entities have pledged to take care of 27 protected areas in total, in the Republika Srpska there are 27, and 12 in the Federation of BiH.
In addition, three BiH wetlands are under international protection and have the status of wetlands of international importance: Bardača, Hutovo Blato and Livno Field. They play a critical role in protecting the survival of numerous plant and animal species, as well as in mitigating climate change.
Even though the authorities declared certain areas as protected, at the same time they allowed private businesses to commercially exploit their resources.
Janj Islands near Šipovo is an area bursting with waterfalls, water cascades, biodiversity and high-quality forest that should be declared as a protected area according to the Republika Srpska Spatial Plan.
In 2006, the RS government issued a concession license for construction of a small hydropower station in the area, but the works have not yet started because the facility is not featured either in the spatial plan or water documents.
Despite this, the RS National Assembly fast-tracked adoption of the Special Purpose Zoning Plan for Janj Islands which sets the stage for the construction of a small hydropower station in the area. Legislators adopted a document which is not harmonized with the RS Spatial Plan which provides that  "no licenses should be issued for the construction of small hydropower stations or other facilities that might change the water regime" in this protected area.
The officials from the RS Ministry of Spatial Planning, Construction and Ecology say that the Zoning Plan is harmonized with amendments and changes to the RS Spatial Plan and that the Constitutional Court would be competent for any review of legality.
"According to information we have, there has been no procedure to review the legality of the said planning document launched", the Ministry's officials wrote to CIN.
The plan's development is financed by Mrkonjić Grad Hidrovat company, which plans to build the hydropower station. The firm is co-owned by Austrian GLA Holding, which also owns another company that won a concession license to build a small hydropower station in the Sutjeska National Park.
Several months before the Zoning Plan was hastily ushered through the RS National Assembly, the Ministry and The RS Institute for Protection of Cultural-Historical and Natural Heritage missed a chance to protect the Janj Islands. The Association for Promotion of Ecology "Eco Zone Šipovo" sent an initiative to the Ministry to declare the islands as a protected area, but the Institute had no time to produce a white paper on its protection due to other obligations. Since the Ministry also never assigned this task to another agency, "Janj Islands" have remained unprotected.
Bardača, near Srbac in the northeastern part of BiH, is a Ramsar protected wetland area with eleven lakes that have been an important habitat for around 200 bird species. Though protected formally, Bardača's habitat and its inhabitants have been lost. Nowadays, only one lake remains, while the others have dried out and turned into farming land where corn and wheat are sown.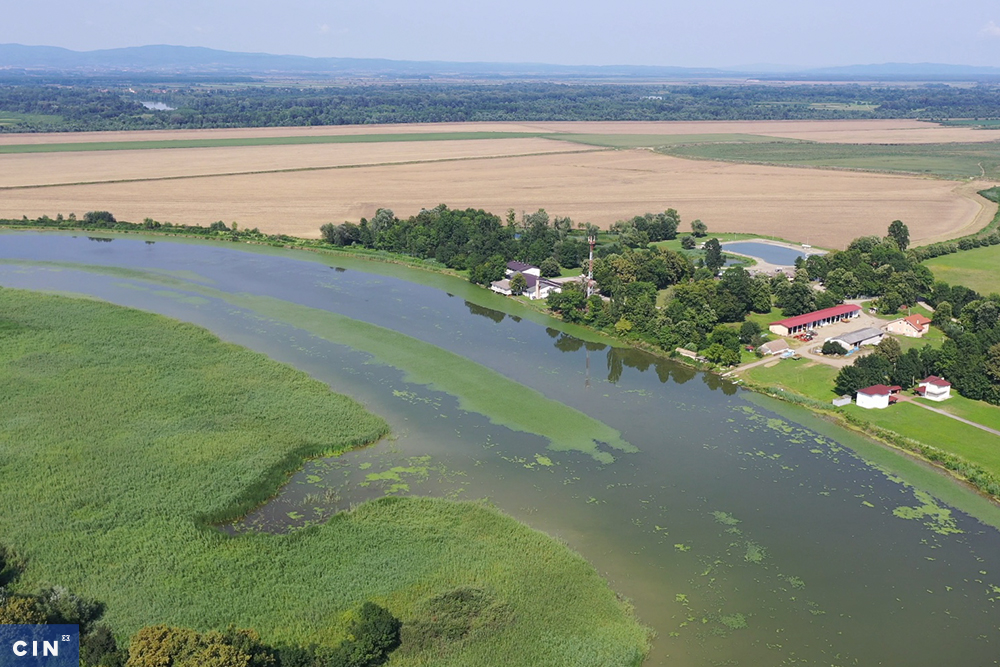 Bird colonies in Bardača were protected back in 1969. Their capture and killing was prohibited, as well as nest destruction and the cutting of trees and reeds. (Photo: CIN)
Bardača Lakes were first used in 1902 to raise fish and eventually it became an important bird habitat. However, the gradual destruction of this oasis of peace has been going on since 2010.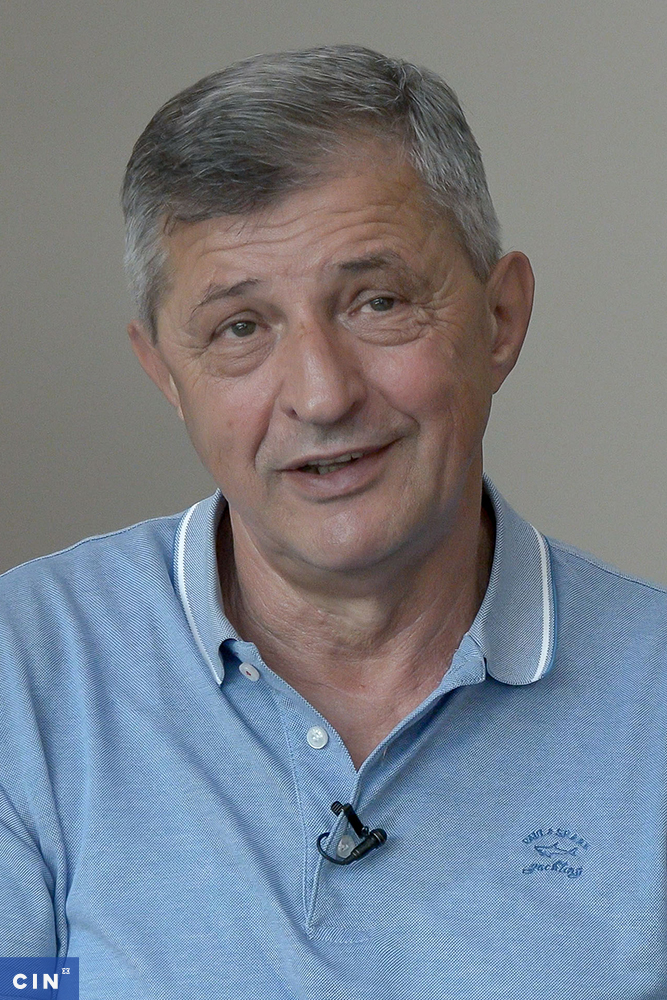 Agroimpex's co-owner Nikola Vukelić said that the government can take Bardača back if it feels an emotional connection to it: "I'll give them the fish pond if they give me money". (Photo: CIN)
The state enterprise "Bardača Fishponds" used to be the wetland's manager. Having fallen into debt, the Fishery sought investment from a private firm Agroimpex.  Unfortunately, through a series of damaging contracts, Agroimpex acquired ownership of the land and the lakes in Bardača.
Then fishpond's manager, Anđelko Dumonić, was sentenced to six months in prison for harming the enterprise, while the co-owner and Agroimpex's manager, Nikola Vukelić was acquitted of incitement to commit a criminal offence charge.
While a court was trying to untangle the ownership issues and find the culprits for Bardača's demise, Agroimpex Company was drying out the lakes and planting corn. The Republika Srpska Inspectorate slapped Agroimpex twice with a combined fine of a mere 5,700 KM.
Vukelić says that he invested around 3 million KM in the fishery but the fish production didn't pay off for him.
"Let the people give me back the money (i.e. Republika Srpska government) and I'll give them back the fishponds", said Vukelić. "What's the problem? Do you know how much I'm emotionally bonded to the fishpond? I'm fed up with it".
Along with the court proceedings, the RS Ministry of Spatial Planning, Construction and Ecology started the procedure for Bardača's protection, but the officials gave up once Agroimpex Company took ownership in 2016. The lakes had already dried up by then. Vukelić doesn't care much about the fact that the area represented a habitat for around 200 bird species. The habitat has now been damaged. "I have no idea", says Vukelić. "I didn't receive a list of birds when I bought it, nor am I asked now to produce that list".