In God's Name
Friday October 18th, 2013
Stanko Subotić, Boško Radonjić, Tasim Kučević and Naser Kelmendi are just some of benefactors of religious buildings in Serbia and BiH. They were sentenced or accused of acts in contravention to the God's commandments.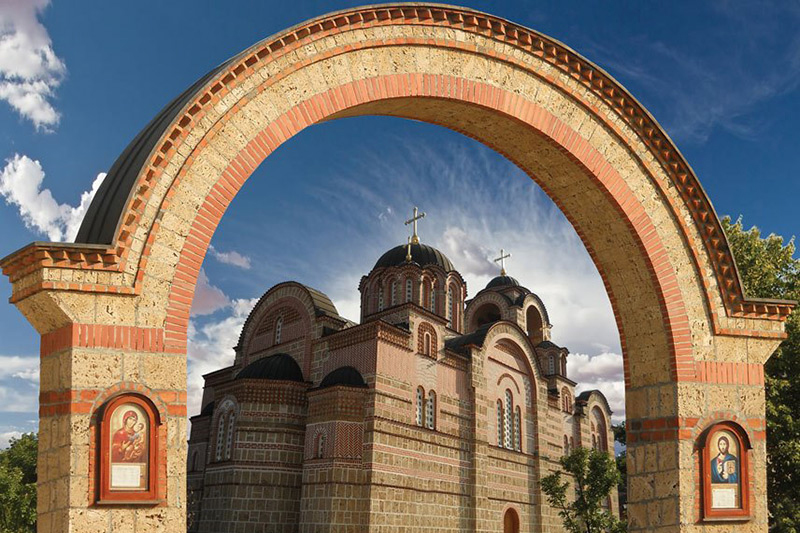 The Temple of Christ the Savior in Ub in Central Serbia was opened at the time when Interpol's arrest warrent for Stanko Subotić Cane—the temple's biggest patron—was active. (PHOTO: www.crkvaub.rs)
By The Centers for Investigative Reporting in Sarajevo and Belgrade (CIN/CINS)
The Church remembers its patron Stanko Subotić from Ub", reads a marble plaque near the main doors of the Temple of Christ the Savior in this Serbian town. Subotić earned the privilege to have his name carved into the church's wall with money donations for the temple's construction. The Valjevo diocese described the temple as one of the most beautiful buildings in "the Orthodox Universe".
However, Subotić was not present at the rite of the church's blessing in Sept. 2011. The wholesale cigarettes trader lived in Switzerland at the time. He would have risked arrest by setting his foot in Serbia. Back in 2007, Subotić was accused of cigarette smuggling in Belgrade and there was an outstanding Interpol arrest warrant against him until mid-last year.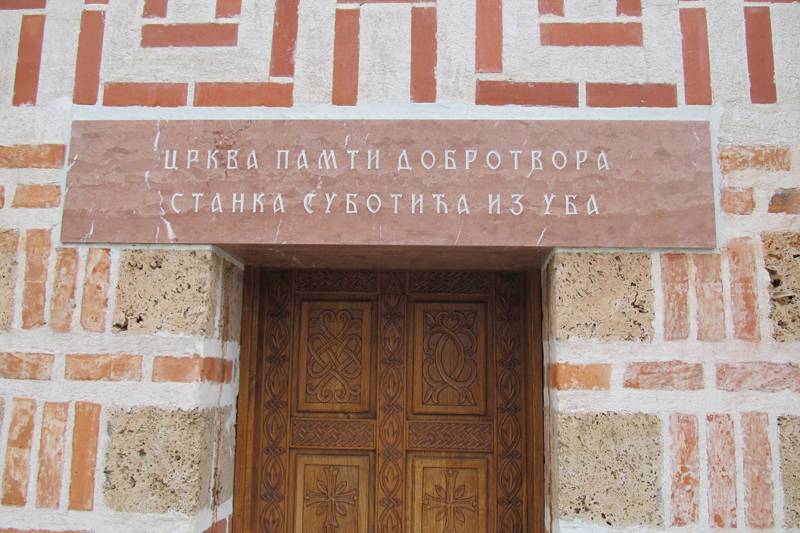 An inscription on a church in Ub is a witness to Stanko Subotić's grand contribution to the construction of a grand temple in the Central Serbia.( PHOTO: CINS)
An investigation conducted by the investigative reporting centers in Sarajevo and Belgrade (CIN/CINS) found that the religious organizations in Serbia and Bosnia and Herzegovina (BiH), have been taking for twenty years contributions from persons who are not following the god's commandments. Some donors to churches and mosques have been prosecuted for criminal offences, while others are about to stand trial or have been under investigation. Apart from Subotić, some of these donors are Boško Radonjić, Tasim Kučević and Naser Kelmendi.
While the Subotić trial went before the Special court in Belgrade on account of the lost government millions in evaded taxes and customs duties, Valjevo diocese lauded the rich businessman from Ub. At its web page the diocese published that a festive meal that follows a rite of blessing—sometimes referred to as a "love feast"—was dedicated to Subotić and other benefactors. During his speech, the assistant bishop Atanasije called the Ub church "the heaven's gates", while the bishop Milutin said that Stanko Subotić deserved the special and outstanding merits for its construction. The diocese paper reported that numerous parishioners applauded the bishop's words.
Less than a month after the church ceremony, Subotić was sentenced in absentia in Belgrade to six years in prison as the head of a group that was smuggling cigarettes in Serbia during 1995 and 1996. The indictment read that Subotić damaged the state budget for €28 million and nearly $US 8 million.
In the beginning of this year the verdict was overturned. Subotić returned to his homeland this summer where he has been retried for cigarette smuggling.
The head of the Ub church did not want to discuss Subotićs' contributions. The officials from the Serbian Orthodox Church (SPC) in Belgrade did not reply to the reporters' requests for an interview about the temples' donors and their contributions.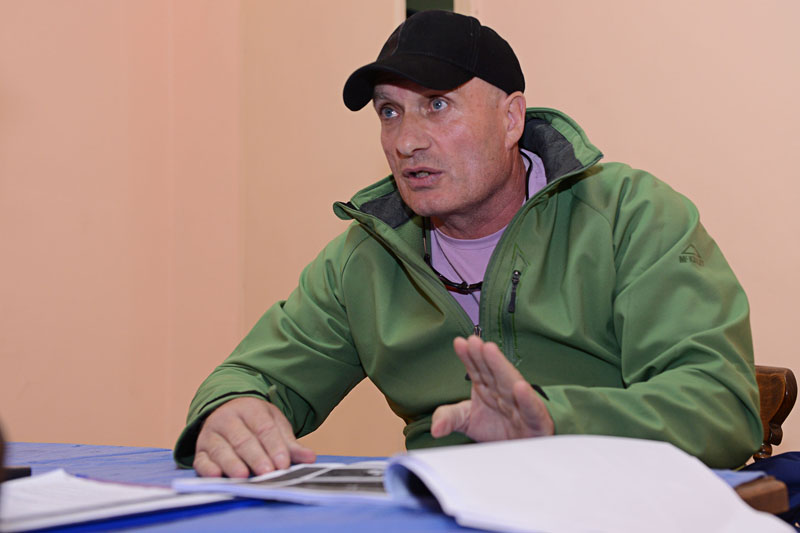 Tasim Kučević said that his bars were frequented by criminals, professors, NATO forces, ministers, police and that all paid their bills. (PHOTO:CIN)
A bargain to save souls
Academics in Serbia say that it's no news that people are building religious endowments to atone for their sins and that the Church history is full of such examples.
The criminal past of Užice native Boško Radonjić was well known in Serbia at the time when he donated money for a church in Zlatibor, situated near his native village.
Radonjić spent a good deal of his life in New York, where he worked for the infamous mafia boss John Gotti, according to court documents. He was under investigation in the US for a rape attempt, fellony weapons and drugs possession, and after a 1975 bombing he was sentenced to three years in prison. The most famous case against him dates back to 1992 when he was charged with jury tampering during Gotti's trial.
He was arrested in 2000, during his attempt to enter the US. Two years later he returned to Serbia where he was well respected by the local gangsters because of his US connections. Radonjić is mentioned in the Serbian police's files as a member of the US criminal clan who was involved in the international drug smuggling operations and murders. He died in 2011.
Because of his church donations Čajetina municipality gave Radonjić a privilaged status when he bought a plot of land at the Zlatibor mountain resort. He got a reduction in the the cost of utilities matching the amount of money he had contributed to the church.
Danilo, a monk from the Dubrava Monastery at the Zlatibor mountain in Serbia said that it's not written on a donor's forehead whether he's a criminal.
A Belgrade-based academic specializing in religious studies Mirko Đorđević said that the church officials abide by an ancient rule "that everyone has a right—even the biggest sinner—to repent, to atone even by money".
"But money cannot save the soul", said Đorđević.
Bosnian benefactor of Sandžak descent
The building of mosques in BiH is mainly handled by ordinary mosque-goers who operate through mosque councils. They sometimes accept donations from persons who are well-known for their criminal activities. At the councils' bidding, the Islamic Community has given the certificates of appreciation to the benefactors.
Tasim Kučević received a certificate in the midst of his 2010 trial that won him a 14-year sentence on charges of organized prostitution, human trafficking, money laundering and an assault at a woman in the courtyard of the Court of BiH.
The Tuzla Council of Islamic Community gave Kučević a certificate of appreciation in 2008. It read that this Serbian-born man from a town of Sjenica had been donating construction material for the building of a mosque in Donje Petrovice between 1997 and 2006. These helped to built an apartment for imam (a priest), abdesthana (a ritual washing room), mekteb (a primary Islamic school) and a library in Pasci near Tuzla. Kučević also donated the construction material for mesdžid (a mosque without a minaret) in Demirovići near Ljubači. The local council also awarded him a certificate of appreciation for this donation.
These and similar humanitarian donations were documented in a book titled "The Sandžak and Bosnian Humanist, the King of Paupers, a Master Builder Tasim Kučević", published by his cronies with the goal of altering the public's perception of him.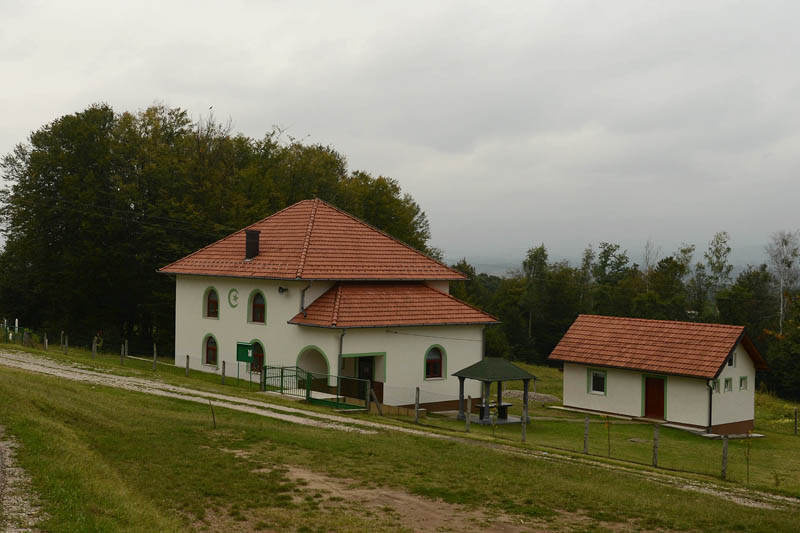 A mosque in Petrovice near Tuzla was built due to Tasim Kučević's donations from 2006. Recently he has sent contributions in cash and material for the beggining of the construction of a minaret. (PHOTO: CIN)
The inhabitants of the villages from Tuzla metropolitan area where Kučević lived or occasionally resided, remember him as a benefactor who has always responded to calls for help. They did not want to discuss his business.
"What he did and how he did it is absolutely of no concern to me. There are the procedures– the courts, the state police, whoever–let them do the investigations. I am aware of one thing though: Tasim is in prison, while the prostitution is in full swing in Tuzla", said Omer Paočić, a member of the mosque board from the village of Pasci.
Even though the Cantonal court in Tuzla sentenced Kučević to 3.5 years in 2002. for keeping women in slavery-like conditions and soliciting prostitution, the mosque board from Donje Petrovice accepted his contribution in construction materials three years later.
Kučević told the reporters who met with him in the Zenica prison how it happened. "I was passing by and I saw people digging. They said: 'We're building a mejtef'. I asked them why did not make a mosque. They said: 'With what money Tasim?' I said: 'God will give, I'll give'".
During 2005 and 2006, he donated 50,000 KM worth of construction material for the building of the mosque, and the book states that the mosque "could easily be called after Tasim Kučević".
This religious building has not yet been completed, while the president of the mosque board Salih Strašević explained that recently started the building of a minaret for which Kučević donated 700 KM and two tractor-trailer's stones. He announced that the board will issue one more certificate of appreciation to Kučević.
"Whatever he has at his disposal, he gives it to us", said Strašević.
Kučević also got a certificate of appreciation from Josip Batinić, the pastor of Morančani parish near Tuzla.
Batinić, who heads Cer parish near Derventa, said that Kučević was a good neighbor and that he helped built a road to the parish church in Morančani and pave the sport yard near it. The pastor said that Kučević helped the poor through the church.
"He came by to ask if someone was poor, if somebody needed wood", said Batinić adding that he did not know at the time that Kučević had been sentenced for criminal acts.
Kučević recalls he made a Christmas crib in front of the church and took part in the building of a bell tower.
Generous Kelmendi
When the inhabitants of Plandište neighborhood at Ilidža near Sarajevo decided to build a mosque they received a generous donation from Naser Kelmendi, the head of an Albanian family who was often in conflict with the rival clans since his arrival in Sarajevo after the war.
Kelmendi bought two houses in Plandište in 2003 and 2004.
The ground for the mosque in the neighborhood was broken in May 2008, and Kelmendi was among the first to contribute money. The construction of the mosque was headed by Nezim Halilović, an official with the Islamic Community. He said that he did not want to make a comment because the mosque was not officially opened. The Community's internet page reads that the mosque has been used for daily prayers and catechism since 2010.
The officials from the Parish said that they were not involved in collecting money for building and their secretary Esad Karahmet said that Kelmendi wired money directly to a Sarajevo-based Rasno-Meka Company which had built the mosque.
"We have never asked anything from him. We did not give him a letter of appreciation because we did not communicate with him directly", explained Karahmet.
The deputy director of the construction firm Esad Hasanović said that Kelmendi was one of the biggest donors for the mosque with a contribution of around 100,000 KM .
Kelmendi was arrested in Kosovo in May 2013 based on an Interpol arrest warrant filed by the Court of BiH. The BiH Prosecutor's Office has been investigating him in connection with the killing of Ramiz Delalić Ćelo, the leadear of the rival clan in Sarajevo, and for drug trafficking. Courts have frozen his assets in Sarajevo, including the houses in Plandište. The BiH Prosecutor's Office in its motion to freeze Kelmendis' assets wrote that it would prove that he had acquired most of them from narcotics proceedings.
There had been several investigations against this Kosovo-born Albanian and his sons at the time of his donation for mosque. They were investigated on murder charges, armed assaults and violent behavior, while his half-brother and two sons were prosecuted for illegal possession of firearms and violent behavior.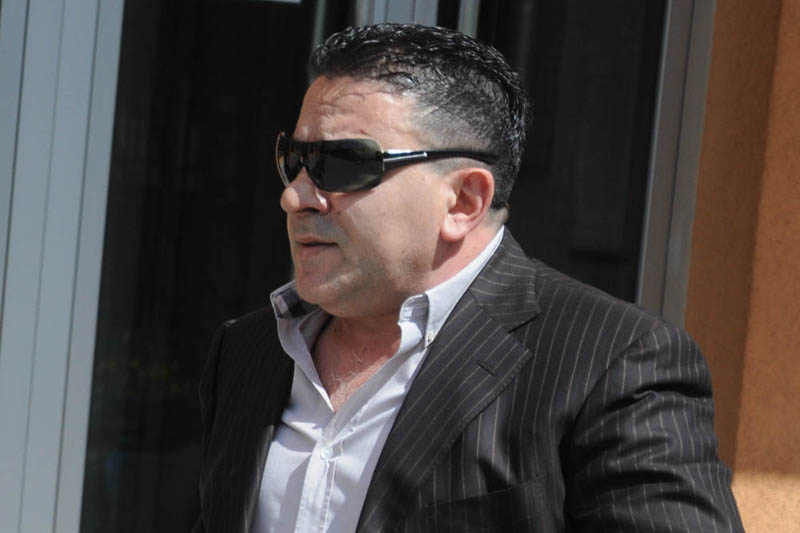 Naser Kelmendi donated 100,000 KM for a mosque in Plandište, but has not received a certificate of appreciation from the Medžlis of Islamic Community in Sarajevo. (PHOTO: CIN)
The highest body of the Islamic community in Sarajevo wrote in a letter to the reporters that this faith-based institution does not have the instruments to check the donors' property. They did note that the Islamic Community considers e donations acquired in an illicit manner, such is by selling drugs, to be unacceptable.
The professor of the Islamic Sciences in Sarajevo Hilmo Neimarlija said that the Islamic Community had no right to accept money of dubious provenance and that it had an obligation to pay heed to the public's perception based on which donors' intentions can be judged.
He went on to say that older generations of Bosnian Muslims would always rather choose to build a more austere mosque with their money than some elaborate one financed by other people's money that might have a dubious provenance. He explained that the society has changed because the material interests rule over the universal values, such is acquiring property in honest ways.
"Faith that can be sold is not the faith", said Neimarlija.
Published on Oct. 18, 2013.