Trial in Connection with Nikola Špirić's Official Car
In 2008, the Council of Ministers of Bosnia and Herzegovina paid 219,900 KM for an Audi Q7 intended for then chairman Nikola Špirić. Five years later the car was sold for 34,218 KM. The following month a trial related to the car's procurement is scheduled to open before the Basic Court in Brčko District. Defendants are charged with fraud and abuse of office.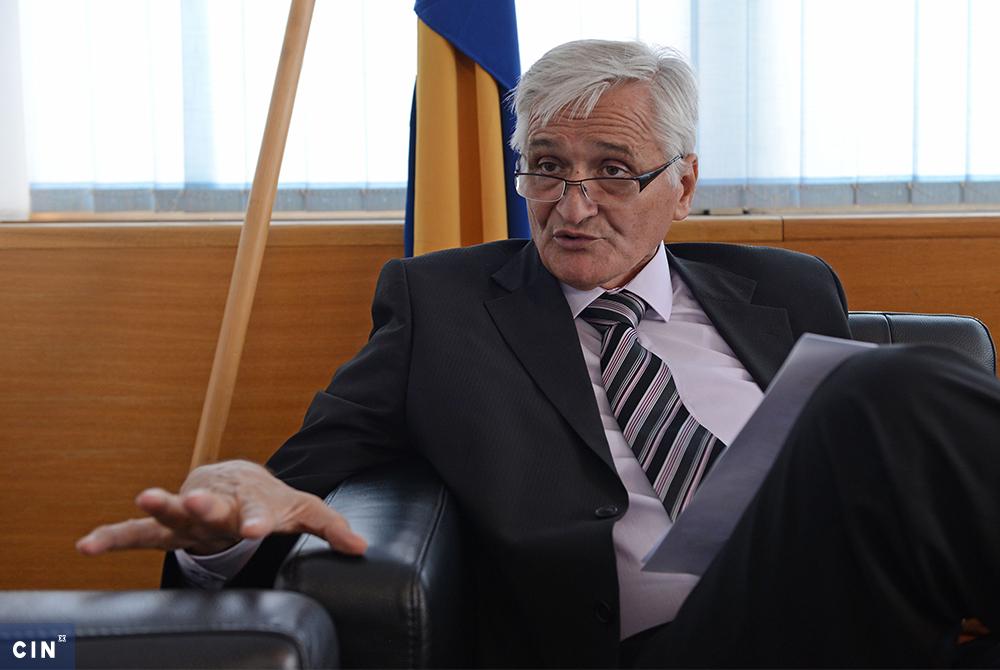 Used Audi Q7 parts were installed on Nikola Špirić's new official car. (Photo: CIN)
By The Center for Investigative Reporting
The opening hearing in a case involving directors from the firms Transjug L from Donji Žabar and Brčko Gas from Brčko is scheduled for mid-May before the Basic Court in Brčko District. They are charged with fraud and abuse of office in connection with the procurement of a vehicle for Nikola Špirić, former Chairman of the Council of Ministers of Bosnia and Herzegovina (BiH).
Last January the court approved the indictment that the Prosecutor's Office of Brčko District filed against Duško Sofrenović and Simo Brkić, former directors of "Transjug L" and "Brčko Gas" respectively, for procurement and maintenance of the SUV "Audi Q7 FSI Quattro tiptronic". The firms' owner Đorđa Kojić, is Špirić's party colleague from the Alliance of Independent Social-Democrats (SNSD).
The Center for Investigative Reporting (CIN) in Sarajevo reported nine years ago that Transjug L was awarded a contract because it promised to deliver the vehicle on the day of signing. However, the car was delivered nearly three months later with a note that some spare parts were missing. The failure to provide equipment and a missed deadline did not affect the final price.
Sofrenović is charged with falsely promising to deliver a car that would meet tender requirements and for which Transjulg L got 219,900 KM in taxpayer money. Brkić is charged with keeping false minutes on behalf of Brčko Gas's service garage that purported to have installed the original parts on the Audi Q7 that had been missing on delivery.
The firms' owner Kojić says that his directors are fully independent in their work and that he was not aware of the tender's details as they are applying on many tenders. Špirić did not want to comment and said that he did not conduct the procurement.
According to a report on the state of the government fleet conducted four years after the procurement, Audi Q7 was sold at a 2013 auction for 34,218 KM because of frequent failures.
New Car with Second-hand Parts
A 2008 call for bids put out by the BiH Council of Minister's secretariat specified requirements for an SUV vehicle with an engine of minimally 257kW / 350 horse power; the volume of 4,172 ccm; four-wheel drive; tiptronic transmission and the color of black metal. These characteristics matched Audi Q7.
Three Kojić-owned firms bided: Brčko Gas and S-Auto from Brčko and Transjug L from Donji Žabar. The three sent their bid offers on the same day and they differed from one another on prices and delivery dates.
Brčko Gas offered 225,316 KM with a delivery date between 90 and 120 days following signing of contract. S-Auto offered 220,452 KM with a 30-day delivery date, and Transjug L, 219,900 KM with delivery on the day of signing.
The bidding commission judged Transjug L's offer the best, after which the Council's former secretary general Zvonimir Kutleša wrote in his report that 'the competition process and the procurement procedure was conducted in a transparent manner in line with the BiH Law on Public Procurement.'
He signed a bill of sale with Sofrenović on July 28, 2008.
According to the indictment, at the time of signing the contract Transjug L did not have the car. The firm's director Sofrenović bought it from Brčko Gas for 134,250 KM only three months later. Transjug L earned 85,650 KM following the car's delivery to the Council of Ministers. Sofrenović did not want to talk to CIN reporters about the indictment.
The indictment also reveals what went on following the car's delivery. In 2009, Audi Q7 was taken to a Brčko Gas service garage so that the missing equipment could be installed. The new Audi Q7 got a panoramic roof from a second-hand vehicle that Brčko Gas imported from Germany for this purpose. According to the indictment, the roof from the second-hand car was cut out and installed in the government car in a private car body shop in Brčko. The remaining missing equipment was never installed.
Then, on March 12, 2009, Brčko Gas service officials made a bogus customer repair order and kept minutes about what parts were taken off and changed with the goal of giving a false impression that all original parts missing on shipment were finally installed. This paperwork was then sent to the BiH Council of Ministers as a proof that Transjug L had supposedly met its contractual obligations.
The indictment states that because of the irregularly installed roof the vehicle had become unsafe for driving as it lost its abilities, characteristics and performances. And the car was still missing some equipment required by the tender. Brkić did not want to comment on the indictment and told CIN reporters that he would give his side of a story in court.
The State Investigation and Protection Agency (SIPA) conducted the investigation. In mid-2009, it filed a criminal report with the Prosecutor's Office of BiH charging eight persons and two legal entities with crimes of misconduct in service, fraud and forging or destroying of official documents. In October 2013, the BiH Prosecutor's Office informed SIPA that they dropped the investigation against BiH officials, while what remained of the case was referred to the Prosecutor's Office of Brčko District.