UNICEF Gave Award to the CIN Reporters
Friday November 22nd, 2013
UNICEF gave this year's award and a special recognition to Renata Radić-Dragić and Aladin Abdagić respectively for their special journalistic contribution and for the advancement of the rights of children. Radić-Dragić is the editor-in-chief and Abdagić a reporter from the Center for Investigative Reporting in Sarajevo.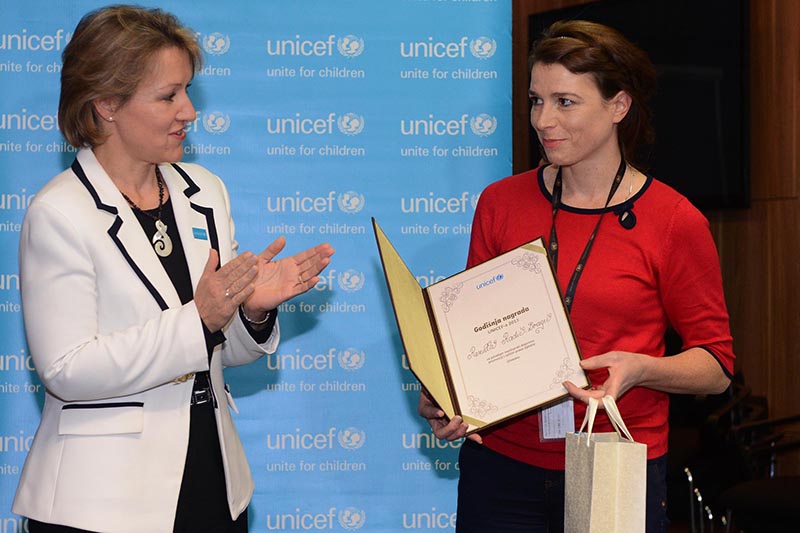 Radić-Dragić received an award for a story about Bosnian children from the three ethnic groups who are taught together despite differences in languages and curriculums. (PHOTO: CIN)
By The Center for Investigative Reporting
UNICEF has given the certificate of appreciations and recognitions to another nine BiH reporters.
Radić-Dragić's Writing Cyrillic and Reading Latin won an award for the story about children from three ethnic groups in BiH who attend classes together despite different curriculums. Radić-Dragić told the story about learning, friendship and love in a multiethnic community in BiH, a country deeply politically divided.
UNICEF jury said that this was "a well put out story about a still relevant topic of an education based on the same curriculum but taught in different languages and alphabets in the schools of Brčko District".
While CIN reporter was awarded for the best article, the award for the best TV program about children in this year went to Martina Krišto-Antelj, a reporter from Bosnian Public Broadcasting Agency (BHT). The best radio story award received Radio Free Europe's Maja Nikolić, while the award for Internet Journalism went to Buka portal and its reporter Dragan Bursać.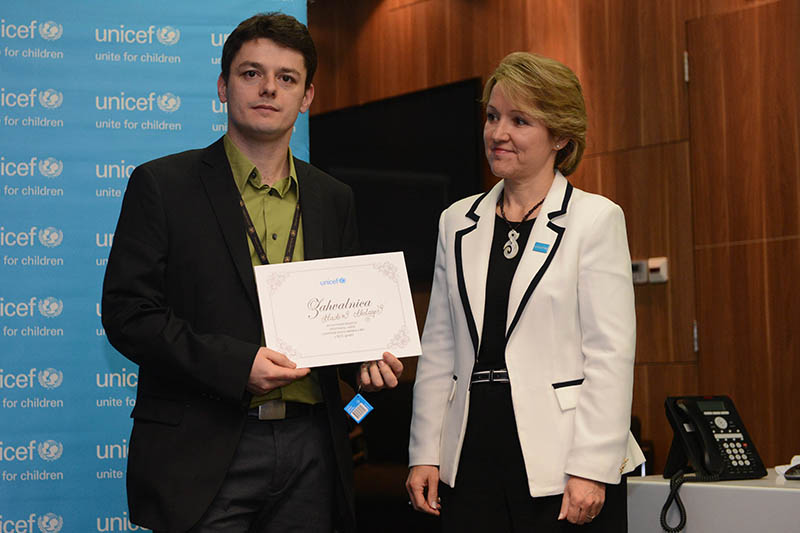 Abdagić received an award for the story about art bringing together children of different ethnic groups. ( PHOTO: CIN)
CIN's Aladin Abdagić received a certificate of acknowledgment for his contribution to the promotion and protection of children's rights for a video story How Music Woke Up Stolac and Ballet Shook Up Mostar which talks about the art connecting children of different ethnic groups in ethnically divided cities in BiH. Abdagić shared UNICEF's recognition with BHT's Elvira Cerić, BH Radio One's Ilijana Azinović and eTrafika's Milovan Matić
Tuzla Canton's broadcasting journalist Azra Mešić received a special mention while the certificate of appreciation went to Bojana Vasić and Snježana Galić for their continuity in reporting about children and commitment to children educational program.
The award and recognition ceremony took place in the UN HQ in Sarajevo. Special guests were children from a Sarajevo kindergarten Kekec, Čengić Vila primary school and the Center for Speech and Auditory Rehabilitation.
Published: Nov. 22, 2013