Unlicensed Kamagra Withdrawn From the Market
After CIN revealed that unlicensed supplement for potency called Kamagra was on sale in BiH the pharmacies withdrew it from the market.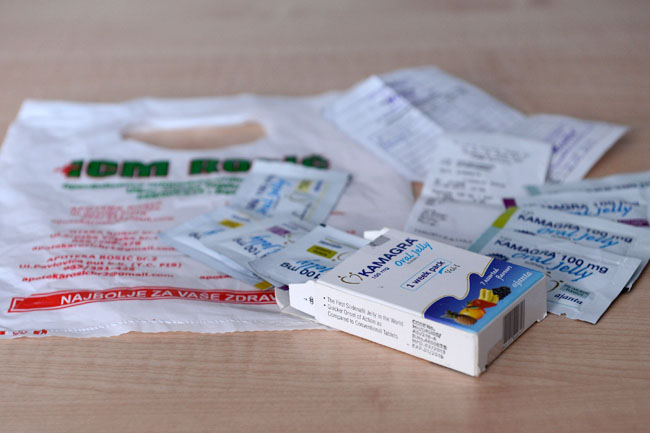 This product of the Indian pharmaceutical company Ajanta Pharma Limited is unlicensed and should not be sold on the market. (Photo:CIN)
By The Center for Investigative Reporting
After the Center for Investigative Reporting (CIN) in Sarajevo published a story in which it warned that Bosnia and Herzegovina (BiH) pharmacies were selling Kamagra—an unlicensed supplement for potency—the product was recalled from the market.
"We have not encountered a single package of medicine in any of the pharmacies because all consignments were returned to the supplier. Package slips and electronic cards were presented as a proof of the return and it can be seen that the amount of the drugs in the warehouses was reduced to zero", wrote Desimir Miljić, the chief health inspector of Republika Srpska (RS), in a letter addressed to CIN.
The letter read that the state Agency for Drugs and Medical Equipment had informed the Chief Inspector's Office that Kamagra could be found on the market. The Agency attached a list of pharmacies that should be inspected.
Nataša Grubiša, the Agency's director, said their action was based on the findings of the CIN investigation.
"Based on your findings we visited some pharmacies where we bought that Kamagra", said Grubiša.
In September, CIN published an investigation about unlicensed drugs to found in the pharmacies in the Federation of BiH and the RS. The reporters bought Kamagra potency supplement in four pharmacies in Bijeljina and Sarajevo and on two occasions they had even gotten a receipt for it.
This product of the Indian pharmaceutical company Ajanta Pharma Limited is not licensed and should not be on sale.
The reporters found that Kamagra had reached some pharmacies via a Banja Luka wholesaler Krajinalijek. The firm explained to CIN reporters that this was a one-time deal with a pharmacy about to close. This did was not a proper procurement procedure.
"A wholesaler can procure a medicine from its manufacturer or another wholesaler", said Indira Šarkić, an inspector with the Drug Agency.
Grubiša said that the inspectors have carried out the inspection of Krajinalijeka, but that the results had not been available.
Kamagra cannot be bought in Otoka A2 pharmacy either after the Drug Agency ordered the inspection of that pharmacy.
"Kamagra is not on sale. We had a proper invoice which was confirmed by the inspection. The remaining consignment was returned, one to two packages", said Behrudin Abdagić from the pharmacy.
A fine for the sale of an unlicensed medicine in BiH is €7,500 for the retail firm and up to €1,500 for its director. As for the wholesale firm, a fine can be between €15,000 and €50,000 and for its director up to €5,000.
Published on Oct. 23, 2013.