Factories in Mud
May flooding did about 1.5 billion KM damage to BIH industry and businesses. While authorities have been collecting data on damages and planning restoration, firm owners with hundreds of employees have been paying for repairs on their own.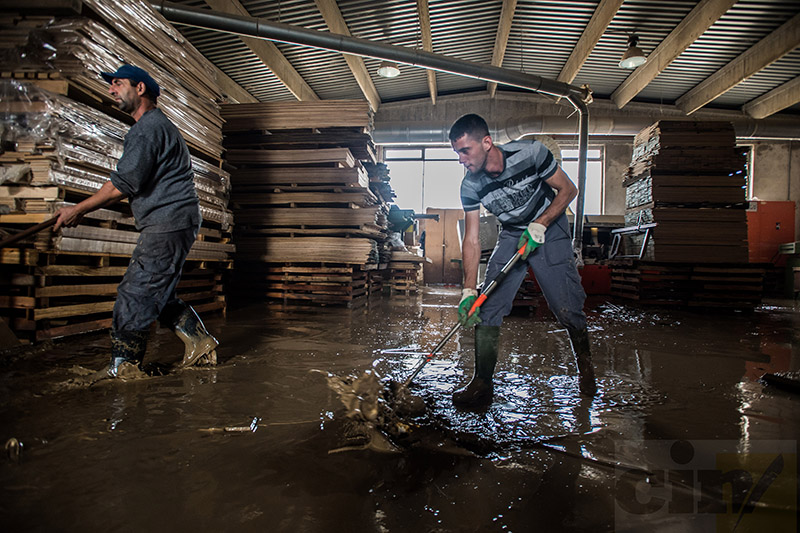 Employees from some firms in Gračanica have cleaned their facilities twice this year. (Photo: CIN)
By The Center for Investigative Reporting
Workers at RPC Superfos in Gračanica had better things to do this past summer than to make plastic packaging. They were clearing away tons of mud that the Spreča River and its tributaries left over the firm's premises.
They cleaned expensive machines and equipment day and night in order to start making boxes for the ice cream and dairy producers from the European Union and the region.
The halt in production threatened the workers' livelihood.
According to records from the Federation Ministry of Work and Welfare, Superfos was one of 32 firms in Gračanica affected by the May flooding. Direct damages to the firms were more than 5 million KM.
According to a report by the European Commission, UN, World Bank and the Bosnian authorities, the floods set back Bosnia and Herzegovinan (BiH) industry by 1.5 billion KM. That includes direct damages of 678 million KM, and increased costs of doing business and the expense of lost production of goods and traffic at 873 million KM.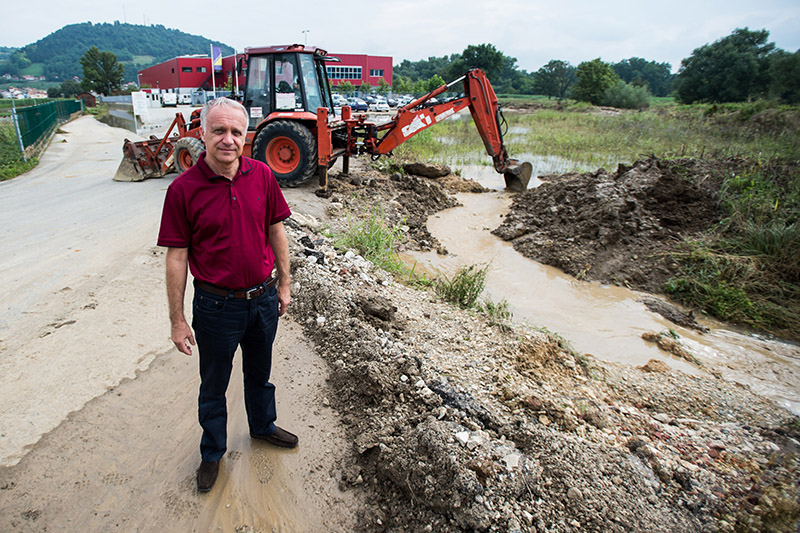 A director of RPC Superfosa Suad Helić ordered an inter-entity road to be cut in order for a water to drain down to the Spreča river. (Photo: CIN)
Some 3,000 people lost their jobs and another 13,500 jobs are still in peril according to the report.
The entity governments have passed certain laws and resolutions which should make it possible for firms hurt by the flooding to delay paying tax debts, get loans on good terms or to reschedule ongoing loans, and get grants. However, company owners who spoke with the Center for Investigative Reporting in Sarajevo (CIN) in August and the beginning of September said they have yet to receive any assistance.
Dangerous Local Roads
RPC Superfos's premises were flooded twice this year – In May and in August. The firm's officials estimate damages at more than 1 million KM. The owner, a British holding of the same name, assisted in the restoration. According to director Suad Helić, the executives did not count on government's help. But, they were also surprised by what happened in the aftermath of the May flooding.
Helić said that when the company tried to start production, a foreign currency trading inspector visited. He said that they pleaded with the inspector to postpone for a week, but he refused. "This is the extent the state has helped us," said Helić.
In Tuzla Financial Police Department the officials confirmed that their inspectors were on a routine inspection May 27, that is, 12 days after the floods began. They said they postponed inspections at places submerged, but that the headquarters of RPC Superfos were clean and looked like the "hotel of A category".
According to Helić, people had to wait four days after the first flooding for water to recede from the factory premises. He said that two drain channels under the road were two narrow. It took them 14 days to clean the factory and revive production.
CIN reporters visited the factory this August, a day after the second flooding. The factory ground was dry, but a beige-yellow line ran along the walls that served as a reminder the water had been nearly at a meter deep.
When the machines and equipment were submerged the second time, the Gračanica firm's managers knew what had to be done. They rented an excavator to dig out part of the local road which worked as a kind of levee holding water in the firm.
Helić said that they broke the road in two places so that water would drain toward the Spreča River. The firm recovered this time in just a few days, with damage at closer to 100,000 KM.
The director said he was aware that the damage to a public road might not sit well with authorities but he was adamant that the recovery went much faster because of much less damage.
The firm managed to keep its 117 employees despite the big losses, thanks to the British owners, not to BiH authorities.
The FBiH government has published a Flood Risk White Paper that concludes that there was a high danger of flooding in the valleys of all the major rivers, but that little was done to guard against such natural disasters. The study warned that water-protection facilities have not been maintained, that residential and industrial buildings are being built nearby the rivers and sometimes even at their banks. Also, the report stated that the rivers have become rubbish dumps.
Officials in Civil Defense Uniforms
When water covered the offices of the Isowood wood factory in Gračanica for the second time in 2014, its director and majority owner Bego Ahmetašević swallowed tranquilizers.
After the May flooding, the firm suffered damages of 1.28 million KM. Flash floods and mud destroyed electric motors on the machines and stockpiles of wood. A Dutch co-owner managed to keep its Western European clients.
Workers pitched in and cleaned the factory so that within a month it was again producing their main product — multi-layer kitchen boards. Ahmetašević said that he took out a bank loan to cover the firm's loses.
In August, a new flood did another 500,000 KM damage.
"Those two damages combined, that's nearly 2 million. A firm of this capacity cannot withstand that," said Ahmatašević, who has concluded he must phase out Isowood. So far he laid off two workers, he said, and the remaining 55 have received smaller salaries since May.
"You have spent 10 years to acquire something, and then it's gone within two months," said Ahmetašević.
Authorities have not secured financial assistance for this and other BiH firms. At an international donor conference in Brussels last July, BiH was promised 1.6 billion KM in loans and grants. The governments of FBiH and Republika Srpska (RS), which will manage the assistance funds, had not collected data on individual damages by the beginning of September and the distribution of the money has not yet begun.
"There is no one to complain to. The authorities show up only to collect taxes. They take two to two and half million in taxes a year from my firm," said Ahmetašević .
The director said that some public officials visited Isowood during the first flooding. They were dressed in civil defense uniforms, but they did not offer assistance.
"They came to have their photo taken. They did not bring even a bottle of water. They were government officials from all levels," said Ahmetašević. "Yes, they had their photos taken and later no one called to ask how we were coping."
The Flood in Jadrine and Šikulje
The flooding paralyzed Jadrina, the only furniture company in Gračanica. The streams and creeks combined into a flash flood that submerged the firm on Aug. 6. It employs 290 workers.
The firm's director Ramiz Grapkić said that the water in the factory halls and warehouses was at least one meter high. The intensity of the flash floods was such that it overturned some machines.
"The first day I just cried," said Grapkić. He recalled how he and the workers who were the firm's co-owners had managed to build a modern furniture factory from what had been a pre-war wallpaper paper factory.
In the beginning of September, Grapkić said, they still did not produce furniture. Meanwhile, they lost two long-time clients. Authorities have given no help.
Grapkić said that the government of Tuzla Canton approved an assistance program in the amount of 10 million KM, but his firm did not qualify for it. The package included subsidizing the payment of the interest rates on loans, the salaries and benefits for workers which were not paid on time. "Jadrina paid everything on time," said Grapkić.
He said that he had asked the authorities to pay Jadrina workers' benefits from August to December, while the firm would to pay their net salaries. "We would get on our feet in the meanwhile," said Grapkić. However, his proposal was not accepted.
Even though the June 2014 report by the international and local institutions noted that 3,000 persons became jobless, that another 13,500 jobs were at peril and that 300,000 persons were in direct economical danger because of the flooded industrial premises, the entity employment agencies say they were not informed.
Haris Čuljević, from the FBiH Employment Institute, said that his office has not analysized the flood's consequences on employment and that they did not have data about lay offs after the floods. The same was true of the RS Employment Institute.
The Tuzla Canton Employment Institute wrote to CIN that a Lukavac firm FEN-BiH laid off a majority of its workers — 83.
In a Tuzla-based Kreka mine officials say that salaries of 3,200 employees were cut 20 percent. Director Enver Omazić said that an average salary in the company is now around 700 KM.
The management lowered salaries after their open pit of Šikulje in Lukavac was submerged. The firm reported the damages of 80 million KM in June, which is the biggest single damage in FBiH. Director Omazić said that a final tally will be known when they dug out valuable equipment out of the several-meter deep mud.
In a 90-meter deep crater of the 630 hectares wide open pit, five big excavators and transporters with tracks for transporting coal remain under water. Even after two months of running, the pumps have not emptied the crater of water. That could take until October, Kreka officials said.
Published on Sept. 18, 2014