Through Dialogue to Future Peace
Debate between veterans who fought on different sides has proved a bitter but efficient medicine for war traumas. Many think that such dialogue can help the divided Bosnian society.
Hodžić and Kuridža (second and third from the right) paid tribute to Croatian and Serb victims in Jablanica. (Photo: The movement Because I Care)
By The Centre for Investigative Reporting
A former soldier from Serbia Novica Kostić met veterans of other armies that fought in Bosnia and Herzegovina (BiH) and Croatia for the first time in 2002. He had an urge to hear "the other side" and come to terms with the questions he has asked himself often.
"It bothered me: why there were so many prejudices in me and why I was armed—apart from the military weapons—with hatred toward someone I had not met," he said.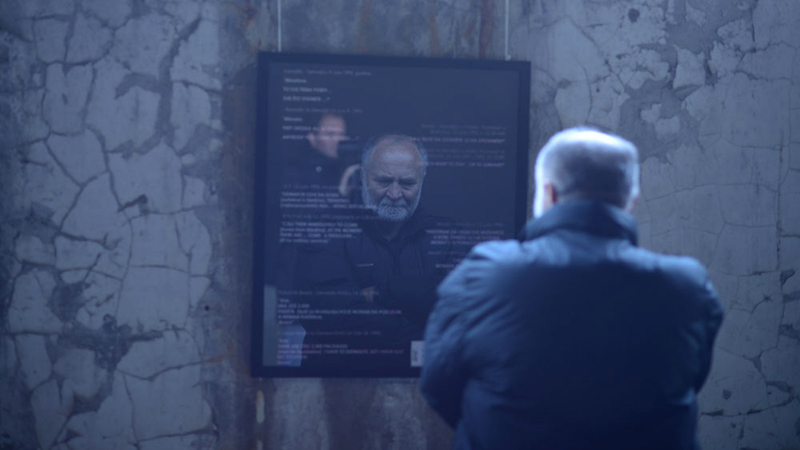 Ljuban Volaš looks at the photos displayed in a warehouse of a former UN Military Base in Srebrenica. (Photo: CNA)
Ten years later Kostić visited the Memorial Center in Potočari near Srebrenica, along with a group of veterans including Ljuban Volaš and Ivo Anđelović of the Republika Srpska army and Croatian Defense Council.
They paid tribute to victims of the Srebrenica massacre and met with their families.
This is not the only example of Bosnian citizens coming together to break through ethnic barriers and build a better society.
A Bosniak man organized a visit to prison camps in Jablanica and the village of Čelebići near Konjic where many Serbs and Croats perished. Serbs from Banja Luka, Belgrade and Prijedor took part in a protest walk demanding that Prijedor authorities allow the construction of monuments honoring perished Bosniaks and Croats.
This is all happening due to, what on the face of it, is a simple thing – dialogue.
Veterans as Peace Builders
For 15 years, the activists of the Center for Nonviolent Action (CNA) have worked with veterans who are not only trying to overcome war traumas, but also contribute to peace-building.
A dozen activists from seven cities in BiH, Croatia and Serbia work in the organization's offices in Sarajevo and Belgrade.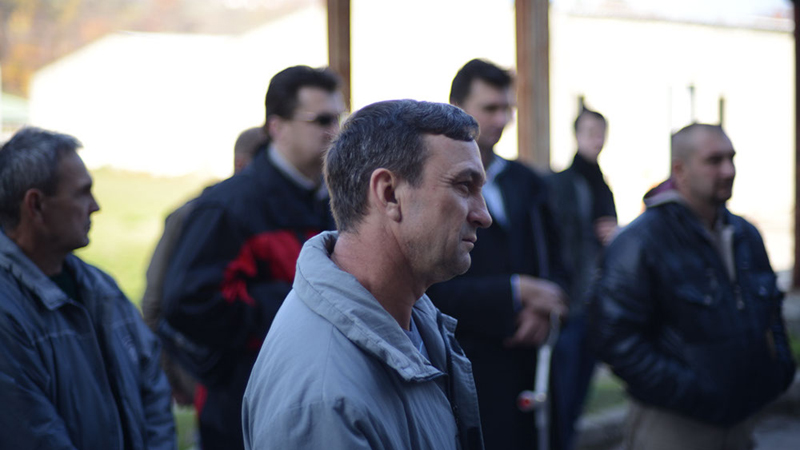 Novica Kostić with a group of former veterans in the Memorial Center of Potočari near Srebrenica (Photo: CNA)
Kostić, 53, president of an association of the war veterans in his hometown, said that the war's participants can be peace-builders. Paying tribute to victims is first and foremost "a matter of humanity".
The reactions to what he's doing go from approval to open threats. Kostić just thinks that this shows how powerful the effort is.
Kostić said that veterans and Bosnians as a whole first have to find "room in our hearts and minds for the victims of others and feel human empathy that is not restrained within ethnic and religious borders."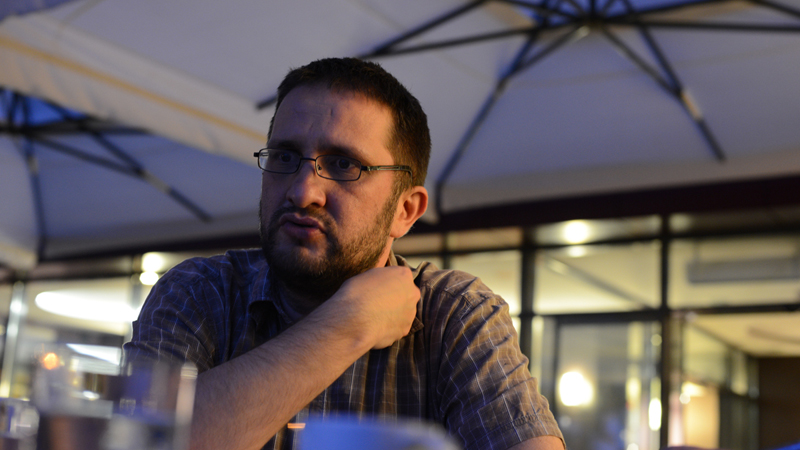 Adnan Hasanbegović, a BiH Army soldier during the war, is now an activist with the CNA organization. (Photo: CNA)
Adnan Hasanbegović, a CNA activist, said that conversations among war veterans can be tough. Still, all of them can see the similar problems that bind them: a dire economic situation and the feeling that they've been sidetracked by the society they had fought for.
After years of working with the veterans, Hasanbegović is convinced that dialogue must be encouraged and thinks that violence resolves nothing.
A Movement that Concerns Everyone
Along with veterans, citizens have also recognized the potential of dialogue as a method for treating war trauma and building peace.
Emir Hodžić and Nikola Kuridža from Prijedor are the part of the movement "Because I Care". They organized a protest walk on the Day of White Ribbons which pays homage to the death of Bosniaks and Croats in the Prijedor area during the war.
Hodžić's father and older brother survived the Omarska camp and was one of three people that existed in the Prijedor metropolitan area during the war.
Kuridža thinks that paying tribute to victims and identifying places where crimes occurred show that these are important matters for the larger society and not just families of victims.
"As a Serb I should be the first one to say that I feel sorry for all victims in Prijedor," said Kuridža.
He believes that by building monuments commemorating all the victims it is possible to build the future. He said that at these places children should learn about the futility and effects of war so that it would not be repeated.
On May 31, Dražen Crnomat and Dražana Lepir from Banja Luka also wore the white ribbon, as did a group of Women in Black from Belgrade and a group of Prijedor anti-fascists.
Hodžić is one of the movement's founders. So far they have had several actions, though it is not registered in court.
He left as a refugee for New Zealand after seeing crimes against the Bosniaks and Croats and only returned to BiH several years ago.
"A victim is a victim—regardless of its ethnicity—and a crime is a crime," Hodžić says.
For two years, Hodžić organized "The Voyage to Sea" during which activists from across BiH drive a route from Sarajevo to Čapljina paying tribute to Serbs, Croats and Bosniak victims at locations where they perished or suffered.
Thousands pass this route every summer on their way to the Adriatic, unaware that just along the road are places of suffering where people were killed and tortured just because they were different. Places such as Hadžići, Čelebići, Jablanica and Dretelj near Čapljina are mainly unmarked.
Hodžić says that we should not let these events fall into the cracks of history.
"It is terrible to justify one crime with another crime," he says. That is how society lets itself fall into a vicious circle of violence. "We have to break out."
Published on July 30, 2013