Brothers and Sisters in Arms
Though still shooting Bosnia and Herzegovina sport shooters left the war behind them long ago. They have replaced war arms with sport arms and they fight together for the colors of the state flag in the BiH Shooting Federation.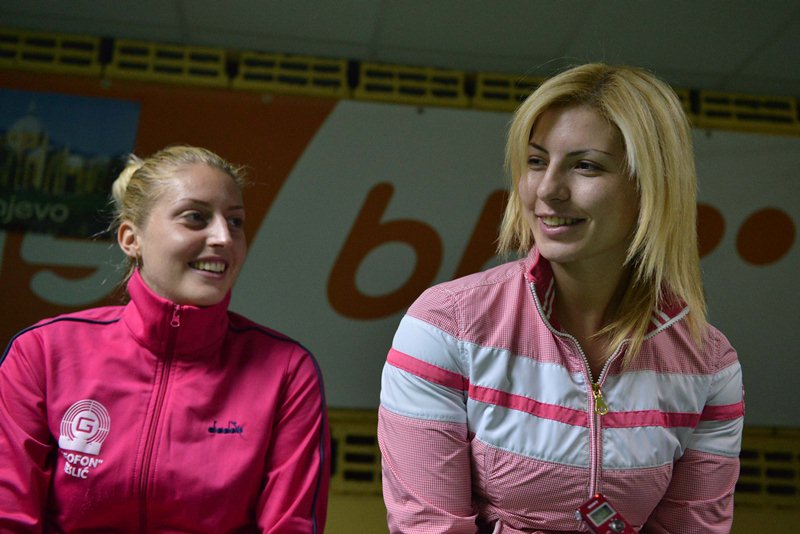 Members Darija Kitić from Teslić and Sabrina Drinjaković from Sarajevo say that the BiH National Team travels less because of money troubles. (Photo: CIN)
By The Center for Investigative Reporting
Members of shooting clubs in Bosnia and Herzegovina (BiH) do not talk about the war a lot. More or less, everyone knows who was where and what they were doing. They do not believe that those who come to competitions committed crimes. They say that those who do not have a clear conscience "are afraid to come among normal people."
Reporters from the Center for Investigative Reporting in Sarajevo (CIN) talked with shooters at shooting ranges in Sarajevo and Trebinje. They talked during breaks in competitions, trying to speak over the sound of whizzing bullets.
Two members of the BiH national shooting team – Nijaz Šahinović and Spaso Škoro – were also national team members in the former Yugoslavia. War interrupted friendships and socializing through competition. Šahinović stayed in his hometown of Visoko, and Škoro moved from Sarajevo to Trebinje.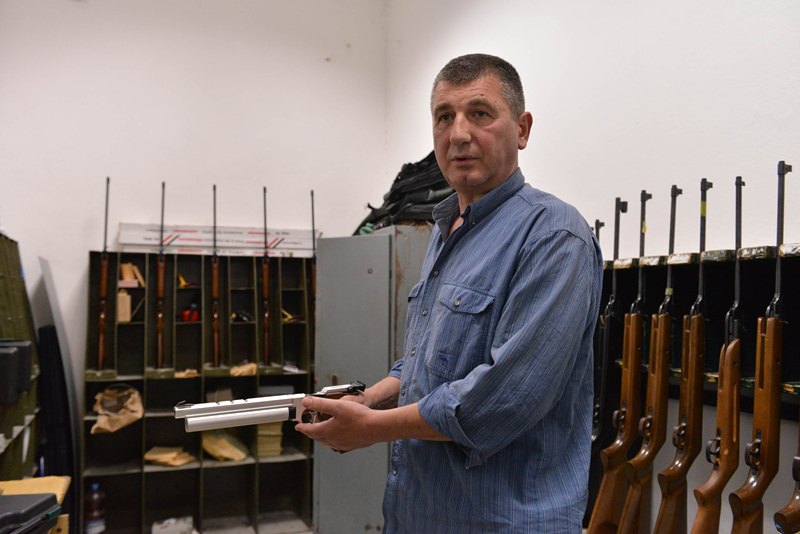 Spaso Škoro, a pre-war national team member, keeps in touch with other members of the old Yugoslav team, who have moved, as he says, from Kuwait to Sweden and Australia. (Photo: CIN)
After the war, Škoro got in touch with his friend. They spent several days in a Bar in Montenegro, at a seminar the International Shooting Sport Federation put on in 2006. "Nijaz chose me to share his room with me," recalls Škoro. He says that the first meeting was "as though they saw each other yesterday."
Šahinović has been sport shooting sport since 1982 and he remains active in the Shooting Club Visoko. Škoro has been a shooter since 1974 and belongs to the Shooting Club Leotar in Trebinje. Their clubs are both in the BiH Shooting Federation.
Hanging out by Decree
After the war all shooting clubs in BiH joined in the Federation, a requirement if they wanted to go to international competitions. This did not run smoothly at first. Clubs from the Republic of Srpska (RS) did not show up at the state championship organized by the Federation after the war in Sarajevo.
Shooters say that clubs now help each other, regardless of the entity where they are registered. Shooters who go to competitions abroad agree to bring back equipment and ammunition for all clubs in the country. Frequently they get orders for targets, ammunition, parts for rifles and handguns not available in BiH.
Šahinović says when somebody's rifle or a gun breaks before a competition, shooters from other clubs lend them their arms.
"Nijaz now gave us his small-caliber handgun, because we did not have enough handguns for our competition in Serbia." The gun costs around 2,000 KM.
Joint summer camping
Long-term joint trips to competitions, sharing everything – from rooms to joy when somebody achieves good results – has brought young shooters closer. A 23-year old Darija Kitić from Teslić says she gets along well with colleagues from other clubs. She is especially close with Sabrina Drinjaković, 25, from Sarajevo. "I hang out mostly with Sabrina and I am in touch with her even when there are no competitions. Sabrina will always help me and I will help her," says Kitić.
The friendship began 13 years ago when Drinjaković started shooting. They both belong to the national team, and their trips abroad, which can last several days, have brought them closer.
They live far apart and so do not meet often, but they keep in touch and see each other whenever they can. "Sometimes I order something from Teslić… and she from Sarajevo. What's on offer differs between these two towns," Drinjaković says. The two say that ethnicity does not matter and they were not brought up to divide people on ethnic grounds.
Every summer young shooters come together in a Trebinje camp for young athletes nationwide. Shooters are looking forward to August, when they will socialize and train in the camp organized as sport school by the RS Government. Participants get accommodation, food and good-quality training. This year 50 young shooters have applied.
Šahinović remembers how he sent two teenage Visoko shooters, a boy and a girl, to Trebinje six years ago. "We just drove them there and went to pick them up. Škoro looked after them," says Šahinović and he remembers how Škoro told him that he would put the children up with his shooters.
Škoro says that young people get on with their lives, without brooding over the past. They go to competitions; they train and live together in dormitories such as the in Trebinje where they will stay during the summer school.
"We can hardly wait for the camping in Trebinje. It has become some sort of a ritual and it is more beautiful with every year," says 17-year-old Almir Smajić from the Shooting Club Strijelac from Tuzla.
The Third Truth
Establishment of the Shooting Federation of Yugoslavia and the Shooting Federation of BiH, saw shooting blossom in 1948. General Secretary of the RS Shooting Federation Adolf Ambroš recalls enrolling in the Shooting Association Edo Blažek in Teslić in 1957. He said sport shooting was well-organized and popular until war in the 90s.
"Even in March 1992 there was an extraordinary well-attended and good-quality BiH Championship for all categories in Sarajevo. There were plans to have the Yugoslavian Championship in Sarajevo in April that same year, but unfortunately, that never happened because the conflict in BiH escalated," recalls Ambroš.
Shooters say athletes have problem not with entities or nationalism, but with finances. Fees for European championship for only one shooter are €100-200 , excluding additional costs for overnight stay and other expenses. Only the most successful shooters from clubs with money to finance them get to international competitions.
The irony of sport shooting with old enemies may be most striking for disabled war veterans. Momčilo Bodiroga, director of the Shooting Club of war invalids from Trebinje, does not want to ponder if any of his colleagues fired the bullet that hit him.
It is impossible to forget there was a war, he says, but athletes are not burdened by it. All of them, he says, went through the same nightmare, but they can now joke at their own expense. They say that they "made each other's national teams, but that is our positive way of joking."
"All of us were on one side of the hill, the others on the other side of the hill and we all have our own truths," says Bodiroga. "Sometimes we even learn about some truth that we maybe did not know of and then the dots connect in a way that another truth emerges."
Published on July 18 2013.