31,000 KM for Defense Expenses in Dragan Čović Case
Seven defense attorneys in the Eronet case asked this amount of money from the Cantonal court in Mostar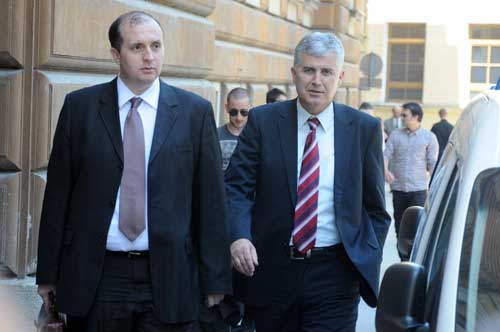 Davor Martinović who represented Dragan Čović still has to put in his request for remuneration. (Photo: CIN)
By: The Center for Investigative Reporting
Attorneys Nada Dalipagić, Adam Filipović and Davor Šilić have put in a request for 31,000 KM remuneration of expenses in the Eronet case from the Cantonal Court of Mostar. These are three out of seven lawyers who represented six defendants.
The Center for Investigative Reporting in Sarajevo (CIN) learned that so far the biggest amount of money asked Filipović who represented Neven Đukić. He has put in a reimbursement request in the amount of 15,109 KM. Dalipagić, who represented Vladimir Šoljić has asked for 8,611 KM, while Šilić, who represented Matan Žarić has asked for 7,133 KM. The cost of the case will be higher because lawyers (Zdravko Rajić, Davor Martinović, Branka Praljak and Irena Pehar) have still to put in their requests.
The court will pay the attorneys once they submit paperwork about representing their clients according to a letter from the Court because it does not pay attorneys' expenses based on the court's price list, but based on the attorney's price list.
The Cantonal Court in Mostar was in charge of the first-instance case of Eronet. The defendants in the case were: Dragan Čović, Marinko Gilja, Vladimir Šoljić, Matan Žarić, Neven Đukić, Ivan Baćak and Slavica Josipović. The Cantonal Prosecutor's Office wrote in an indictment that they abused office as members of the Board of Directors and Management of a Mostar-based publicly-owned company HPT to help a third person gain over 10,000 KM. A June 2011 verdict acquitted the defendants and the Supreme Court of FBIH upheld the ruling in an appeal case in March 2013. The Cantonal court is shouldering the expenses.
According to the indictment, the Prosecutor's Office has not proven charges, while the indictment does not cover some acts which could be characterized as criminal offences. The Court found that in some cases the statute of limitations expired in September 2009, while the indictment was made in January 2010, several months later.
According to the earlier CIN reporting, the Cantonal Court in Mostar had a criminal report with original paperwork collected during the investigation already in January 2003, or seven years before the indictment was filed.
Published June 4, 2013